The most unique and stylish gift for a partner on their birthday or anniversary - A private helicopter experience customised for you.
Regular price
Sale price
$283.00
per person
Unit price
per
Sale
Call to book
Your 1 hour Experience includes:
🚁 20 or 30 min Private Flight
🥂 Champagne on arrival
✈️ Private tour of our hangar
📸 Photos with your helicopter
🎥 In-flight video of your flight
🎁 A personalised souvenir to take home
💵 $350 worth of free gift vouchers
📍 Flights depart Essendon (25 mins from CBD)
🥇 Melbourne's #1 Rated Helicopter Company
A private helicopter experience designed exclusively for couples and guaranteed to be the best birthday present or anniversary gift they've ever received.
We've taken all the hard work out of choosing the perfect birthday or anniversary gift by creating this epic private helicopter experience for 2 to celebrate their special day in style. This is ultimate gift for your partner that ticks all the boxes:
✅ A genuine surprise they will never expect.
✅ A unique experience personalised just for them.
✅ A once-in-a-lifetime experience they will never forget.
We've delivered birthday and anniversary experiences to more than 300+ couples and every single one has rated the experience a full 5 stars... The only complaint being that they wished it could've gone longer!
What's included in your private birthday and anniversary helicopter package?
🥂 Relax with a glass of champagne on arrival.
🛩 Receive a guided tour of our hangar from your pilot.
📸 Take photos with the helicopter and city skyline in the background.
🚁 20 or 30 minutes of flight time in a private helicopter over Melbourne.
🎥 An in-flight video recording of your experience captured in HD.
🎁 A personalised souvenir to take home with you (we'll keep this a secret until the end).
💵 And $350 worth of free gift vouchers to use on a scenic flight, winery tour and "You Fly The Helicopter!" experiences in Melbourne. 
What are some of the famous landmarks across Melbourne that you'll see on our birthday or anniversary helicopter ride?
Your 20-minute private helicopter ride over Melbourne will deliver spectacular aerial views of more than 10 iconic landmarks in and around Melbourne CBD including:
Melbourne Star Observation Wheel

Marvel Stadium

Eureka Skydeck

F1 Circuit at Albert Park
Shrine of Remembrance
Royal Botanic Gardens
Government House
Rod Laver Arena

Melbourne Cricket Ground (MCG)

Flinders St Station

Yarra River

Flemington Racecourse
Choose our 30 minute flight option to extend your helicopter ride and explore Melbourne's iconic beaches and coastline

Our extended 30-minute private helicopter ride over Melbourne in additional flight time allowing you to fly low and slow over stunning coastal landmarks in Port Phillip Bay including: 
Station Pier
Luna Park
St Kilda Pier
St Kilda Beach
St Kilda Marina
The Mansions of Brighton
Brighton Beach Bathing Boxes
A hidden Submarine from WW1 at Sandringham Marina
What to expect on your private Birthday or Anniversary Helicopter Experience in Melbourne
Arrive at our hangar on your special day for your private helicopter experience. Walk in and relax in our customer lounge while enjoying a glass of champagne with your partner.
Your pilot will then meet you at the customer lounge to take you on a tour of our hangar. You'll learn about our operation at Essendon Airport including our flight training school, our different types of aircraft and the physics and aerodynamics behind how helicopters create fly. You'll have the opportunity to ask your Pilot anything from what it takes to become a Pilot, to how much it costs to own and operate a helicopter.
You and your partner will then walk out onto the tarmac for photos with your helicopter and the Melbourne City skyline in the background. We'll take photos with your phone both outside and inside the helicopter to create a unique memory for your birthday or anniversary. You're also likely to spot rescue helicopters from the Police Airwing and Air Ambulance divisions, and even private jets as they lift off from the tarmac in the background.
You'll then board the helicopter to prepare for the main part of your birthday or anniversary experience, your scenic helicopter flight around Melbourne. Your pilot will bring your helicopter into a hover over the helipad before taking off towards  Melbourne CBD. You'll cruise over Melbourne at 1,500ft  (approx. 500m above the ground) while enjoying spectacular aerial views of popular landmarks including Flemington Racecourse, Melbourne Star, Eureka Tower, Albert Park Lake, Shrine of Remembrance and the Melbourne Cricket Ground (MCG). 
If you choose the 30-minute scenic flight option, your pilot will fly around the city and then cruise low and slow down the coast of Port Phillip Bay. You'll spot the famous boardwalk and pier at St Kilda, see people on the rides at Luna Park, get a good view of the seaside mansions in Brighton and spot the iconic Brighton Beach Boxes from the air. Your pilot will then make an exciting 180-degree turn at a 45-degree angle over Sandringham Marina, giving you the opportunity to get a perfect view of the hidden Submarine from WW1 before flying back along the coast.
Your entire flight will be captured in full HD video and include the audio recorded via everyone's headset, so you'll be able to relive the experience over and over again. Once you're back on the ground, you'll also receive a personalised souvenir to take home with you (we'll keep this a surprise for them on the day).
You'll also receive $350 worth of gift vouchers that can be used by you or given to friends and family for a scenic flight, a winery tour and "You Fly The Helicopter" experience as a special thank you for allowing Rotor One to celebrate this special occasion with you and your partner.
This birthday and anniversary helicopter ride is guaranteed to leave your partner full of excitement and gratitude that they've chosen to spend their life with you. From your welcome drink on arrival to your personalised souvenir after the flight, this will be a truly special experience that you and your partner will remember for a lifetime.
Don't just take our word for it... Hear what our 300+ customers are saying about their Birthday & Anniversary Helicopter Experience Gifts.
Helicopter Tours as a Birthday or Anniversary Gift in Melbourne
Helicopter rides are a must-do experience in Melbourne and the best way to explore Melbourne's popular landmarks and attractions. Helicopter rides are popular gifts for special occasions as they're a unique and romantic experience that is both thoughtful and memorable.
The best part of gifting an experience like a helicopter ride is that you can enjoy the experience together as a couple and create amazing memories that you can share with friends and family. Whether your partner's birthday or your anniversary is just around the corner, celebrate your special occasion in style by gifting them an unforgettable experience in Melbourne.
⛰️ Looking for a different gift idea in Melbourne?
See our exciting Melbourne scenic flights or Yarra Valley winery tours collection showing off the very best parts of Melbourne and the Yarra Valley by helicopter including: 
You can also purchase every helicopter ride as a gift voucher that can be automatically sent to your partner on their special day by email. Explore our helicopter gift vouchers for more unique and romantic gift ideas and experiences in Melbourne.




How much does a Couples Birthday & Anniversary Experience over Melbourne cost?
| Price per person | 20 min City Scenic | 30 min City, Beaches & Coastal |
| --- | --- | --- |
| 2 People | | |
❗ IMPORTANT INFORMATION ABOUT YOUR FLIGHT

Where are you located?

Rotor One is located at Essendon Airport which is 20 minutes from Melbourne CBD. Our address is Hangar 7 Wirraway Rd, Essendon Fields and we have off-street parking next to our building.

When should I arrive?

Please arrive 10 minutes before your booking begins for a relaxed experience.

Do you depart from other locations, like the City Helipad?

We depart from Essendon Airport as you have an amazing view of the Melbourne City skyline from the moment you step onto the tarmac. We do not offer flights from the City Helipad on the Yarra River.

What is the minimum age requirement for children?

Children aged 2 years and older can fly. Our pilots will give them special attention to ensure they have an amazing time. All children will have their own window seat and pay the same seat price (we don't offer discounts for children as we make sure they have even more fun than the adults 😁)

I'm just one person. Can I fly by myself?

All our scenic and winery flights are private and require a minimum of two people, except for our Learn To Fly A Helicopter experience. You can book two seats on a scenic or winery flight if you'd like the helicopter to yourself.

Can bad weather prevent us from flying?

Yes, adverse weather conditions such as low cloud, fog, heavy rain or high winds may require your flight to be delayed or rescheduled. If this is the case, your pilot will contact you at least 2 hours prior to your booking time to reschedule your flight to another day/time. We unfortunately cannot provide refunds on flights eligible to be rescheduled.

Google says there's will be bad weather on the day. Should I reschedule?

There's no need to contact us to reschedule based on a weather forecast as they're often inaccurate, especially in Melbourne! We use live weather data on the day of your flight to determine if flights can be conducted safely. We'll contact you at least 2 hours prior to your flight if bad weather could delay your flight.

Why do I need to provide my weight?

We use this to calculate the weight and balance of the helicopter prior to flight. If any guests are over 130kg or a group of 2 or 3 weighs more than 240kg, please contact us prior to booking.

Can I use my camera or phone during flight?

Yes, we encourage you to take as many photos and videos on the ground, and in the air, as possible.

What should I wear?

Please bring a pair of sunglasses and you're welcome to wear clothing appropriate to the weather. We do recommend a wind-breaker jacket for any sunrise / doors-off flights and also when flying on our 12 Apostles tour as both experiences can be windy.

Can I bring any luggage?

Handbags, small backpacks or duffel bags weighing less than 10kg and less than 60cm in length can be carried. Its essential all baggage is soft and compact as it must fit in a small baggage compartment under your seat. We're not able to carry any rigid suitcases or airplane carry-on size rolling luggage.

Can I fly if I'm pregnant?

Yes, however we recommend flying prior to your third trimester.

Can I fly if I'm in a wheelchair?

Yes, our hangar is wheelchair-accessible and we warmly welcome passengers with special needs. Our team will gladly assist in lifting any passengers into the aircraft for their flight. We can also arrange to transport foldable wheelchairs when flying 4 or more passengers, as we use larger helicopters with cargo holds for these flights. If you'd like to arrange wheelchair rental for your flight, please contact Fisher Lane Mobility to confirm availability and request their delivery and pickup service to our hangar.


☔ BAD WEATHER & BOOKING CHANGE POLICY

What happens if there's bad weather on the day of my flight?

We really, really want you to enjoy your helicopter experience, so we only fly when the weather allows a safe and comfortable flight.
Occasionally, bad weather on the day of your flight may require your flight to be delayed or rescheduled (i.e. low cloud, fog, heavy rain or high winds).
We'll contact you on the day if we need to reschedule your flight, and work with you to find a new date or time.
We unfortunately cannot provide refunds on flights eligible to be rescheduled.

 

However, your booking can be transferred to another person, or converted to a Gift Voucher to be used towards any flight with Rotor One.

Can I reschedule or cancel my booking?

You can reschedule or cancel your flight up to 72 hours before your departure time.
Please note there is a

 

10% cancellation fee for any booking cancelled at your request.
We unfortunately cannot reschedule or cancel flights with less than 72 hours notice as we make commitments to ensure your Pilot and Helicopter are reserved exclusively for you on the day.

Please contact us on

(03) 7065 1888

or

concierge@rotor.one

to make changes to your booking.
✅ FLIGHT SAFETY

Pre-Flight Safety Briefings

Each of our guests receive a pre-flight safety briefing from your Pilot on the planned flight path, what to expect during the flight and how to operate emergency exits.

Qualified & Experienced Flight Crews

All our crew are qualified Commercially Licensed Pilots and Flights Instructors with detailed knowledge of Melbourne airspace and several hundred to several thousand hours of flight experience each.

Detailed Monitoring of Weather Data

All flights are subject to favourable weather conditions on the day and your Pilot may delay or cancel your flight if they believe the weather may impact the safety margins or comfort of your flight.

Use of Position Broadcasting Technology (ADS-B)

Our helicopters are equipped with the newest position broadcasting technology (ADS-B) which tracks our position in real-time and gives automated warnings of other aircraft flying nearby.

Routine Mandatory Maintenance Inspections

Our helicopters are inspected every day prior to the first flight and receive a detailed inspection every 50 hours by licensed aircraft engineers (LAME) with critical components being replaced every 100 and 400 hours of flight time.

Flight Planning & Monitoring with Air & Rescue Services 

All flights to destinations outside Melbourne have detailed flight plans that are submitted to Airservices Australia and include deadlines for time that search action may be required (SARTIME) as a strict precautionary measure.
View full details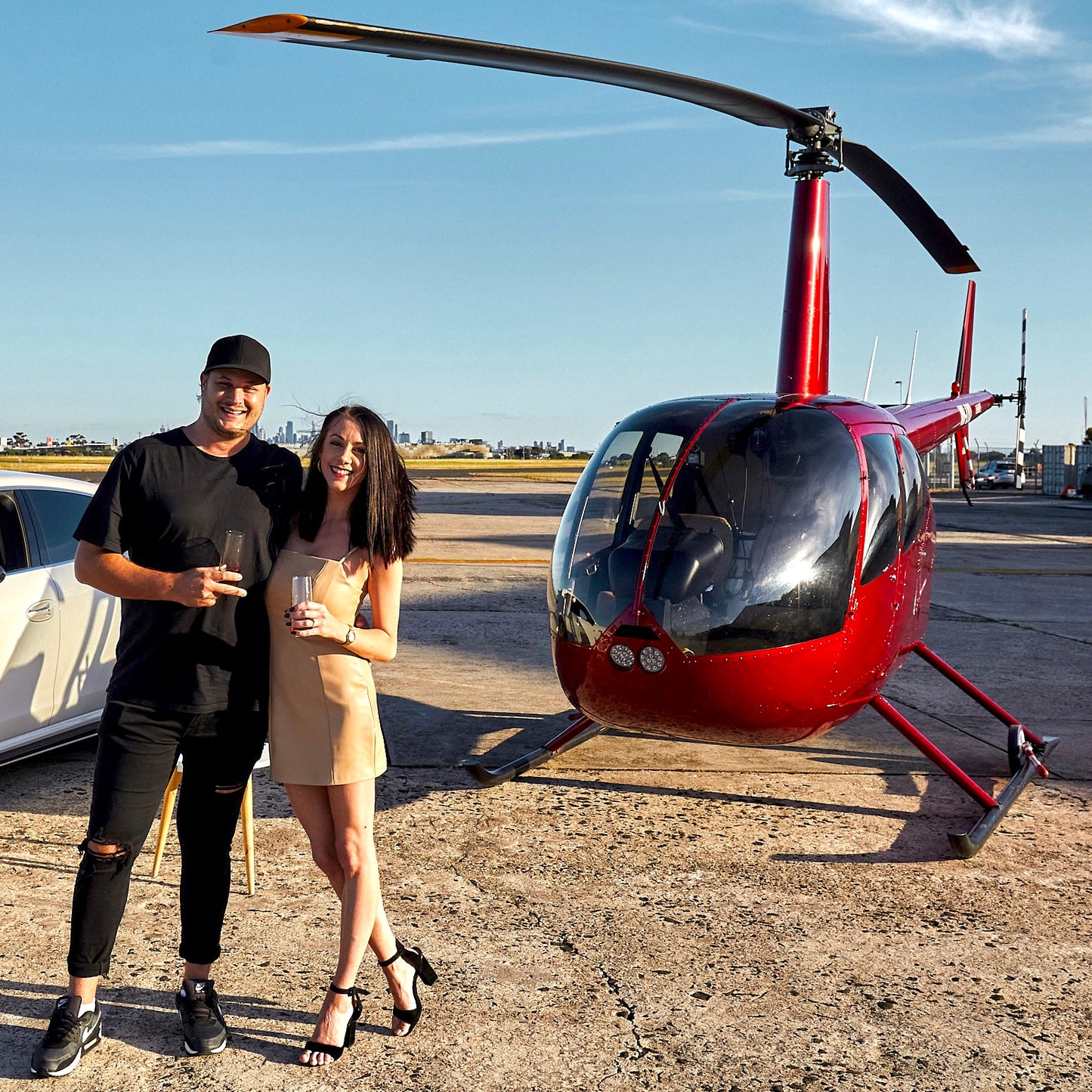 Looking for more helicopter flights in Melbourne?
Scenic Melbourne CBD & Coastal helicopter tour
Booked the Scenic Melbourne CBD & Coastal helicopter tour for my partner's birthday. It was such a wonderful, positive and beautiful experience. As someone terrified of being in the air myself, the pilot's incredibly confident and positive attitude made the tour genuinely enjoyable, being able to focus wholly on the experience. It had even motivated my partner to learn to fly himself someday soon. Undoubtedly, we will be back again one day!
Perfect birthday present
I organised a surprise flight for my golden oldies for my dads 80th birthday. Booking process was very easy, reminders were great and instructions on what to expect on the day fantastic.
Jason (pilot) was great. We thought he might have a challenge with my mum on his hands but she didn't chicken out and she was so glad she didn't. My parents had a wonderful flight, Jason was very informative on the various landmarks they were flying over with a bit of the good old Irish humour thrown in.
I am not a person that leaves reviews but felt i had to after our experience. Highly recommend booking a flight with these guys. I think my golden oldies will be talking about this for a long time to come .
Thanks for looking after them.
Wendy, Ian and Emily,
Couples Experience by Helicopter in Melbourne
I booked helicopter ride on my hubby's birthday. It was an amazing experience, my husband loved a lot. Ed and his team is very welcoming and make you feel comfortable while you ride so that you can enjoy the view.
We are glad that we booked it with Rotor one. Keep up the good work guys.
Special Anniversary Helicopter Ride in Melbourne
The best scenic flight ever. It was a perfect day, the weather was great, we get to view the entire Melbourne city as far as our eyes can see. We would like to thank Rotor One company for organised this special scenic flight for us. We especially like to thank to the friendly pilot name Ed, for his professionalism, his skill in handling the helicopter and show us the Birds Eye views of Melbourne . The way he welcomed us with champagne and helping us taken heaps of photos. An experience which we highly recommended to anyone. Thanks Ed,
Amazing to see the city in a different perspective.
Friendly staff, unreal experience, could not recommend this anymore. Had a great time.
Couples Helicopter Flight for 2
I was really good experience and I recommend everyone to try once and you will love it. Thanks
Choosing a selection results in a full page refresh.
Opens in a new window.